🚀 Our team has been hard at work on some of the features you all have been requesting, and we are happy to announce that we've added four major updates to our product.
Read on to learn more about the release of our brand new Automation Intelligence Interface, Easy-to-use Data Extraction Editor, and other exciting updates you can now enjoy. 💫
New Automation Intelligence Setup with Analytics
From now on, you and your team can easily view and configure your preferred automation type in our updated UI. The automation rate, confidence thresholds, and average confidence scores can all be found directly in the Automation tab in settings.
This self-service automation will allow users to easily and quickly set up or adjust their settings and improve automation per document or queue directly in the 'Settings' screen. What's more, you can also modify the thresholds for each field in the table – no need to do it in the schema anymore!
Also, these new automation blocker icons will help users identify the reason why specific automation can't go through: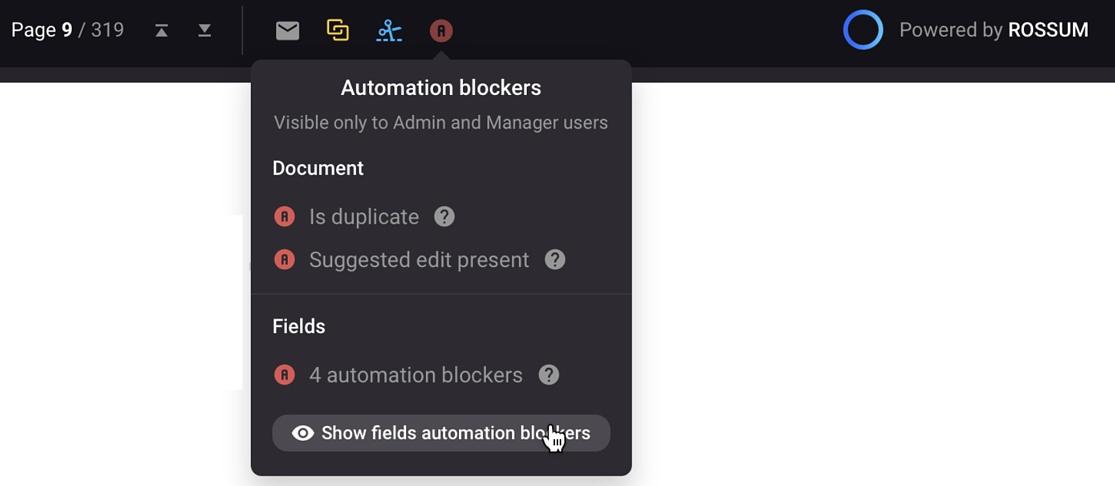 Three New Rossum Store Extensions Now in Beta!
This release is beefing up the communication around document processing. You can find all three new extensions in the Rossum Store – starting from today.
Document Status Page – displays the status of the document to an email sender, allowing them to check the document's status anytime.
Sender-based Validation lets email senders pre-validate documents by themselves in case it's not fully automated.
EDI – receive and process X12 and EDIFACT invoices directly in Rossum. Easily handle data exceptions and onboard new vendors instantly.
For any additional information and the extensions how-to, please contact your Rossum representative or contact us at ask@rossum.ai.
Easy-to-use Configurable Data Extraction Schema Editor.
Rossum's Extraction schema defines a set of data points that should be captured from each document.
Starting from January, users can enjoy this release – it simplifies and speeds up data schema configuration making Rossum even more user-friendly.
Previously, while configuring a schema allowed for an in-depth level of customization, in many cases our users weren't able to modify their data schema independently or properly without requiring support on the backend.
To help them along, we are introducing new capabilities for direct schema editing using the UI interface. It supports:
Adding, editing, and removing data fields and sections.
Users can define Label, ID, data type, requirements, visibility, and RIR Filed names for all data types.
Users can also define dropdown fields (ENUM) options and columns for tables (multivalue).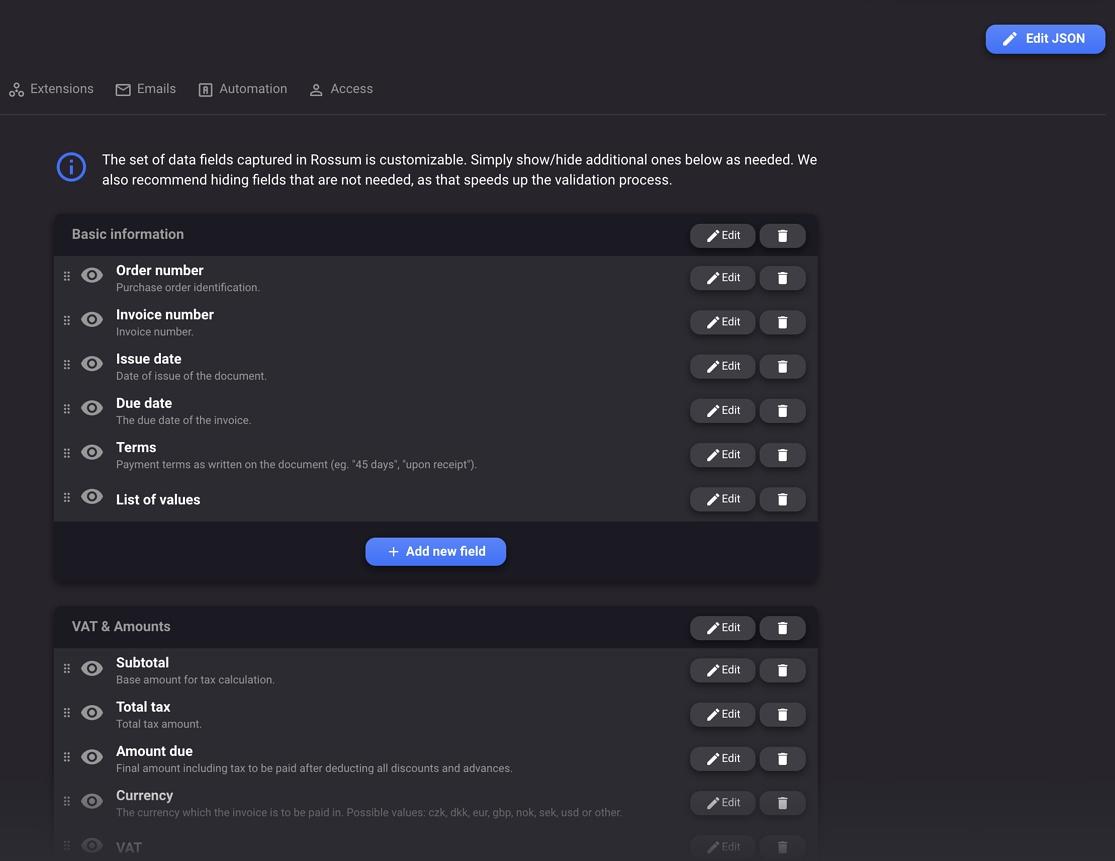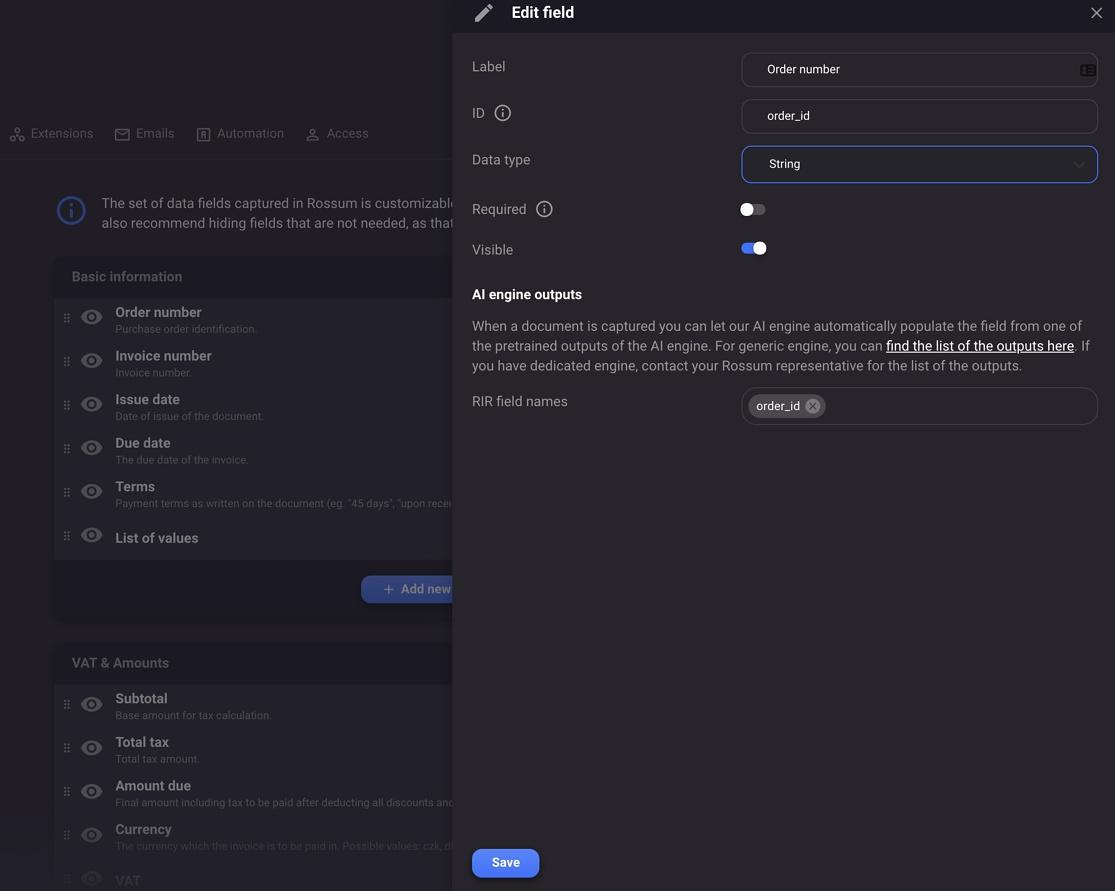 For the rest of the datapoint attributes, leverage the existing Schema Editor and edit JSON directly, as is possible now.
New Generic AI Engine
Rossum's Generic Engine is an AI Model that has been pre-trained to process a specific document type. This new update features:
Updated currency classifier able to recognize: CNY (Chinese Yuan), JPY (Japanese Yen), PLN (Poland Zloty), RON (Romanian Leu), RUB (Russian Ruble) and CHF (Swiss Franc) with up to 90% accuracy, based on our initial evaluation.
Updated languages: DAN (Danish), FIN (Finnish), ITAL (Italian), NOR (Norwegian), POL (Polish), POR (Portuguese).
Confidence scores are now found on line items and have improved calibration!